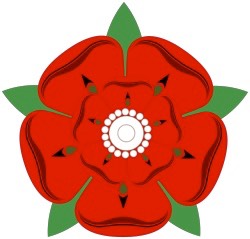 If I mention the War of the Roses, I expect you immediately think of the civil wars fought for the throne of England between around 1450 and 1485. For those who don't know, the battles were fought between rival supporters of the House of Plantagenet - the houses of Lancaster (red rose) and York (white rose). In the end, Henry Tudor (Lancastrian) defeated Richard III and married Elizabeth of York to unite the two houses. The House of Tudor continued to reign England and Wales for more than a hundred years.
Maybe The War of the Roses conjures up one of my all-time favourite films of the same name where Michael Douglas and Kathleen Turner bring us the bitterest divorce case ever and Danny De Vito turns in a fantastic performance as a divorce lawyer. I love that film!
However … for me, and several thousand others, the real War of the Roses takes place tomorrow at Turf Moor. Yes, folks, my football team, Burnley FC, take on those upstarts from Yorkshire, Leeds United FC. So that's what I'll be doing … cheering on the lads and hoping the victors are on the right side of the border!
What will you be doing this weekend?