This Writer's Life...
I saw a lovely review for Presumed Dead which has cheered me up no end. The reviewer called it "A brilliantly written crime book that hooks you from the first page." Yay! It always seems especially exciting to get a good review for a book that's been 'out there' for a couple of years. (You can read the full review here.)
I also had an email from Amazon this morning telling me about great recommendations they had for me. …

I can happily report that there have been no major mishaps at Chez Wells since my last post. I've even managed to get some writing done. Of course, there's still time … and my car is still being repaired. I'd be a lot happier if I didn't keep thinking of the Father Ted episode when Ted tries to hammer a small dent out of this car
and ends up with this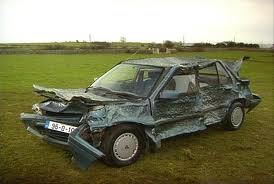 Fingers crossed, eh?
Happy Friday, everyone, and a happy Burns Night to all my friends north of the border. …
Drum roll … I'm finally updating my blog. Read on to discover why life sometimes intrudes and stops me doing things.
Greetings from a very snowy Lancashire. Here's a particularly naff picture.
The bird table is somewhere under there…
As I don't have a 'proper' job, you'd think I'd get lots of writing done, wouldn't you? Wrong. Take last Wednesday, for instance, when I had an appointment with the dentist and hygienist. …

I'm really thrilled to be able to show off the cover for the lovely Carol Kilgore's latest book, SOLOMON'S COMPASS. And what a cover it is. I think it's gorgeous. What do you think?
I love the colours and the way everything - compass, map, water - screams mystery. 
BLURB:
A missing belt—her uncle's prized possession. The lure of buried treasure. And a sexy former SEAL who makes U.S. …

I'm back at my desk after the festivities - and it's covered in all sorts of stuff that I meant to sort out over the holidays. I have piles and piles of paperwork that I shall, um, move somewhere else. So much for being more organised in 2013. :)
Today, I'm over at Not Your Usual Suspects talking about a trip to the cinema. Yes, hubby and I made one of our rare trips to the cinema. …