So here it is. This is my new weekly spot where I get to be nosy and pry into writers' lives.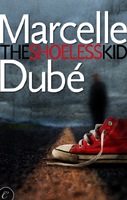 I'm delighted to introduce my first guest, the lovely Marcelle Dubé. I haven't actually met Marcelle (more on that later), but we're both mystery authors and both members of the Not Your Usual Suspects blog so I feel as if I know her well. I fell in love with her writing when I read her novel, The Shoeless Kid, published by Carina Press. I really loved it! Great characters, wonderful setting, and a storyline that had me guessing right to the end. I've since read most of her books and I thoroughly recommend them. 
(And while I'm talking about mystery authors, a bunch of us are running a giveaway. To find out how you can win a mystery e-book, either visit Not Your Usual Suspects, where you can read snippets and enter, or simply go to my Giveaway page. I'm giving away a copy of Dying Art and Marcelle is giving away a copy of The Tuxedoed Man.)
Enough. It's time for me to be nosy…
Me: Marcelle, can you tell us where you live? And where you would live if you could choose anywhere on the planet? Are you a town or countryside person?
Marcelle: I am definitely a country girl who loves to visit the city. I live in the Yukon. For the geographically challenged, that's in northwestern Canada, next door to Alaska. While I love travelling, I have yet to find a place I love more than the Yukon. Of course, I really liked Cape Breton Island in Nova Scotia. And the light in Manitoba just can't be beat. And British Columbia has so much ocean…
Me:  Do you live with dogs, cats or are you pet-free?
Marcelle: I like dogs but I love cats. Grew up with them, actually. Problem is, once I moved away from home, I discovered I was deathly allergic to cats and, to a lesser extent, dogs. That would explain all the sneezing in my childhood… So, no pets for me. ::sigh::
Me: When you're not writing, reading or sleeping, what do you love to do?
Marcelle: Ahem. I wish I could say something cool like go on walking tours of the British Isles or even paint murals on buildings, but actually, I like to knit. I think of it as meditation. I get some of my best ideas when I'm zenning on my knitting.
Me: So tell us what's at the top of your bucket list?
Marcelle: I really, really, really want to go to Norway to see where the trolls live. (Here's a picture of the troll under the Aurora Bridge in Seattle. He's a recent import.)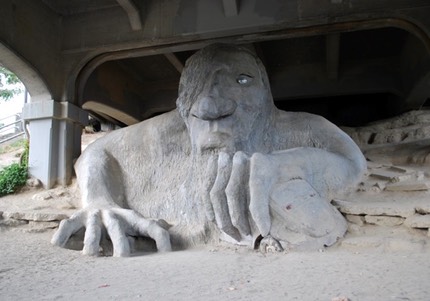 Me: Finally, we're always looking for truly great books to read. Can you tell us about the last book you read (other than your own) that you really loved and would recommend? 
Marcelle: I loved Bury Your Dead, by Louise Penny. It's part of the Three Pines Mystery series, featuring Inspector Armand Gamache, and is set in Quebec City in winter. The writing is beautiful and it packs an emotional punch, even if you haven't read the previous ones. If you want to get the full impact, however, start at the beginning of the series with Still Life. You can get a taste of the stories here.
Thanks so much for being my first guest, Marcelle, and for being so interesting. I'm going to check your Louise Penny's books.
Now, readers, is that the best troll picture you've ever seen or is that the best troll picture you've ever seen. Isn't it wonderful? I love him. 
Okay, I said I hadn't met Marcelle. Well, she doesn't know this, but visiting the Yukon has been on my bucket list for years, ever since I wrote a serial for The People's Friend magazine about a young woman who set off for the Yukon during the gold rush. So one of these days, Marcelle will hear a tap on her door and will open it to find me standing there. "Hello, Marcelle, I was just passing…" (I'll leave the dogs at home though. :)
I'm quite envious of the knitting too. I can't grasp it at all. My grandmother tried to teach me, but none of the scarfs I started knitting for my dad grew beyond two inches - despite my tugging on them. 
So who's with me? Shall we hire a coach and set off for the Yukon? We could go via Seattle and see the troll. Maybe I could tie him to the roof and bring him home. Excess baggage might be a problem on the plane, but he'd look so good in my garden.
----------
Marcelle Dubé writes mystery, science fiction, fantasy, contemporary and—occasionally—romance fiction. She grew up near Montreal and after trying out a number of different provinces (not to mention Belgium) she settled in the Yukon, where people outnumber carnivores, but not by much.
Her short stories have appeared in magazines and award-winning anthologies. Her novels include the Mendenhall Mystery series, as well as fantasy novels Backli's Ford, Kirwan's Son, Obeah and Jilimar. Her work is available in print and electronic formats. 
To find out more about Marcelle, visit her website or connect with her on Facebook, Twitter or Goodreads.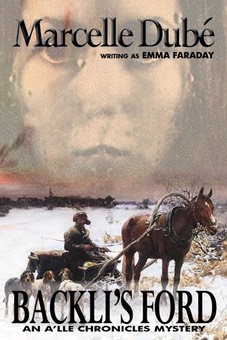 In the early 1700s, an A'lle generation ship crashed in the woods of Lower Canada. While many of the colonists sheltered the injured A'lle, some reacted with fear and loathing. Two centuries later, nothing much has changed.

This is what Constance, first A'lle investigator for Lower Canada, must deal with when she investigates the beating to death of an A'lle boy in the village of Backli's Ford.