This Writer's Life...
I hope you all had a great Easter! As you know, I spent most of it watching football and this was the final shot on the big screen at Turf Moor on Monday.
Yes, Burnley FC are back in the Premier League. Woohoo! I still can't quite believe it.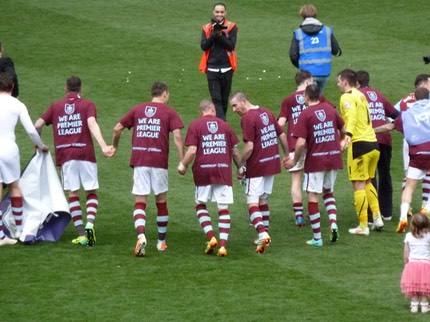 Massive congratulations to all involved, especially manager Sean Dyche and the most hard working, determined bunch of players I've ever seen at the club. …

Happy Good Friday, everyone! Do you have any exciting plans for the Easter break? I shall be watching football today. Three hours of football. These are very tense times for Burnley FC. We're frighteningly close to winning promotion to the Premier League but, as had been said many times before, football is a funny old game. So that's my Good Friday - watching football and chewing my fingernails.
…

Wow, another week has flown by. What have I done this week? Um, been to the dentist (take that as read - sheesh), put the house on the market and sold it, taken the puppy (who will soon be 2 years old) to his first agility training session (he loved it), seen Steve Forbert in concert again (brilliant!), checked the football league table every ten minutes because, amazingly, Burnley FC are on the brink of a return to the Premier League … Basically, it's been just another manic week in the Wells household. 
…

I've no idea where the week went. Really, it just passed me in a blur. I did visit my dentist so that wrote off an entire day, but one minute I woke up feeling as if I'd been hit by a sledgehammer (Monday) and now it's Friday. I'd like to tell you I've been busy sending Dead Simple to my editor, but alas, I'd be lying. There are still some (a hell of a lot of) tweaks needed before it leaves my desk. …