Wow, another week has flown by. What have I done this week? Um, been to the dentist (take that as read - sheesh), put the house on the market and sold it, taken the puppy (who will soon be 2 years old) to his first agility training session (he loved it), seen Steve Forbert in concert again (brilliant!), checked the football league table every ten minutes because, amazingly, Burnley FC are on the brink of a return to the Premier League … Basically, it's been just another manic week in the Wells household. 
But enough about me. Today, I'm thrilled to welcome the lovely Pauline Barclay to my blog. I've never met Pauline, but we've spoken on the phone and are in regular correspondence via email, Facebook and Twitter and I can tell you that she's amazing. She takes the word 'supportive' to a whole new level. She helps and supports any writer - aspiring, traditionally published or self-published - with such enthusiasm and energy that I'm in total awe. Having successfully published four books herself, there's little she doesn't know about the process and she's so brilliant at all the promotional stuff we have to do as authors that you'll see her books popping up everywhere. Yes, they've even rolled out the red carpet at No 10!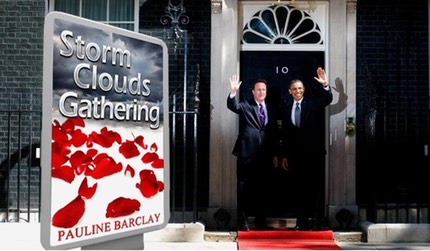 Me: Welcome to the blog, Pauline. For people who don't know, who exactly is Pauline Barclay?
Pauline: I am a Yorkshire lass, but have lived in several different locations over the years; Suffolk, Surrey and Holland.  
Years ago I gained a BA (Hons) degree from the Open University. Today I spend my time writing fiction. I have four books published, plus a 20 minute short festive story. I am busy working on book 5 which is scheduled to be published in 2014.
My passion is to write about events that happen in life and change everything for those involved as well as those caught up in the maelstrom. I want my characters to sit at your side, steal your attention and sweep you up in their story. Stories that will bring tears to your eyes, have you laughing out loud and sometimes, what they share with you, will stay  in your hearts for a very long time.
Me: Now then, can you tell us where you live, and where you would live if you could choose anywhere on the planet? Are you a town or countryside person?
Pauline: We live on a pebble in the middle of the Atlantic Ocean. It is semi tropical and volcanic which means the landscape is very black and rugged. It is a popular island for tourists to soak up the sun or for visitors to do extreme sports like the Iron Man and surfing. And our little pebble is Lanzarote in the Canary Isles. As for being a country or town person, I love the idea of living in both. Living here is not so much countrysideish, but it is pretty unspoilt. We live in town as we love access to the seafront and the restaurants.
Me: And this beautiful picture of your little pebble has me turning green with envy. Simply gorgeous.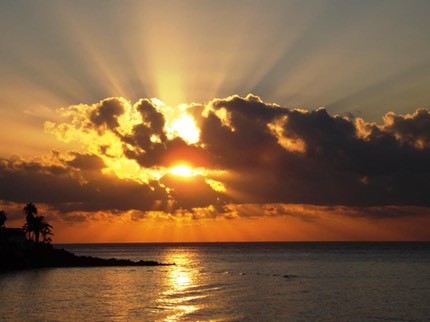 Do you share this little pebble with dogs or cats, or are you pet-free?
Pauline: We have two fabulous doggies. We think they are fabulous! Both rescues. Poppy aka Mrs Sausage is just over twelve years old, but is still full of her terrier spirit. Barney, aka Mr Boy, is a cockerpoo, but masquerades as a teddy bear!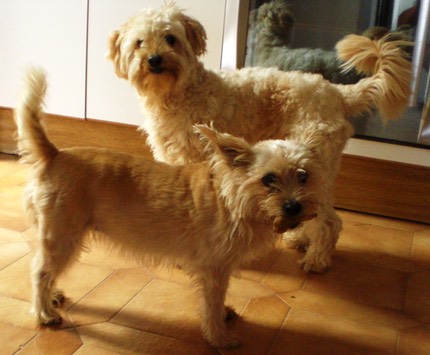 Me: They're adorable! I love the cheeky faces - just ready to get into mischief! My border collie, Dylan, goes to classes with a cockerpoo who looks just like Barney and I keep threatening to kidnap (dognap?) him. 
So tell us, when you're not writing, reading or sleeping, what do you love to do?
Pauline: Walking our doggies, drinking Rioja wine, eating good food and enjoying our island.
Me: Wow. You do realise that you have the perfect life? :)
So what's at the top of your bucket list?
Pauline: I don't have a bucket list. What is one? LOL!
Me: Ha. You don't have a bucket list because you don't need one. You're already living the perfect life. Why would you want to climb the Himalayas or swim with dolphins before you die when you're already living the dream?
Finally, we're always looking for truly great books to read. Can you tell us about the last book you read (other than your own) that you really loved and would recommend? 
Pauline: I have recently come across the writings of Jan Ruth and have demolished all of her books. The latest one was Silver Rain and like all her books, a great read. So I'd like to recommend Jan Ruth.
Me: This is another author I have to check out. For anyone else who's curious, you can find details of Jan's books here. Thanks so much for the recommendation, Pauline!
Pauline: Thank you so much, Shirley, for having me on your super-duper blog. Though I must admit I'm not used to all this rain. Fortunately, I came prepared with my wellies, towels, sou'wester and brolly!  Now I'm dry again, just one question from me, when is your next Dylan book out?
Me: Pauline, you're always more than welcome. Lovely to have you here! I apologise for the rain, ha. As for my next Dylan book, thank you for asking. Dead End will be hitting the e-readers in July. I've just seen a cover concept. It's fabulous, as always, but I've queried something and it's gone back to the drawing board for those that know far more about these things than I ever will to have a think about it. Watch this space!
Meanwhile, readers, here's Pauline's latest book:
Storm clouds are gathering, silently and slowly, too far away to worry about. Or so it seems. But ignoring what is brewing will have dire consequences for the people caught up in the maelstrom.

Shirley Burton is too busy cheating on her husband, having a laugh and looking for fun to alleviate the boredom of her childless marriage. Kathleen Mitchell is too wrapped up in running around after her beautiful family to worry about her health. Anne Simpson has two things on her mind: her forthcoming marriage to Paul Betham, who seems to want to control her, and her career, which she does not want to give up.

Can Shirley really expect to deceive her husband and get away with it? Can Kathleen hold it all together, and is Anne able to have the best of everything?

Storm Clouds Gathering is a story of human emotion, passion and heart-rendering grief. Set against the backdrop of the mid-sixties, these three families will be tested to the limit as betrayal, loss and love threaten to change their lives forever.
------
You can connect with Pauline via her website, her blog, Facebook or Twitter.
A huge thank you to Pauline for being a guest on the blog. And here's wishing you all a great weekend!