Yay, it's Friday, folks, which means I get to delve into another writer's life. Today, I'm thrilled to welcome Rita Henuber who, for those of you who don't know, writes exceptionally good contemporary women's fiction and suspense thrillers. You must read on because the photo … oh my God, the photo... 
Before I forget, you've still got five days to enter the Rafflecopter to win wonderful e-books. (I'm giving away Dying Art, and there are five other great books up for grabs.) You can go to my Giveaway page and enter. 
Enough of me, you want to meet Rita, right?
Me: First, thank you so much for dropping by, Rita! Now - where do you live, and where would you live if you could choose anywhere on the planet? Are you a town or countryside person?
Rita: I live on a barrier island on the east coast of Florida and love to travel. I really can never make a choice. Every place has its own beauty. Rome, Madrid and Chicago are favorite big cities. Being in Montana, the open plains or the mid-west, or on the water and in the swamps of Florida is simply amazing.
Me: Sounds wonderful. I haven't been, but my husband is a big fan of the swamps of Florida. Do you share this lovely home with dogs or cats, or are you pet-free?
Rita: Pet free. Can't deal with the pet hair.
Me: What a wise, wise woman you are. My home is knee-deep in dog hair. Always. My daughter gave me this mug, and it is so, so true.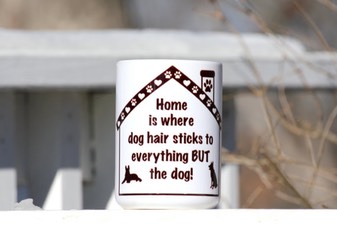 But I digress … Rita, when you're not writing, reading or sleeping, what do you love to do?
Rita: Walk the beach. Sit on the dock. Be with friends. Chase gators out of the back yard.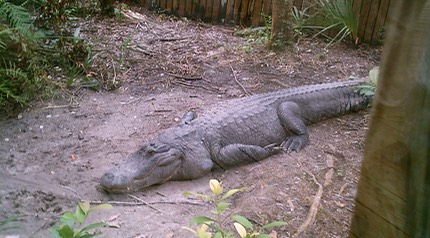 Me: Okaaay. Walking the beach? Wonderful. Sitting on the dock? Bliss. Being with friends? Perfect. But gators? You have freakin' gators in your back yard?!? Please tell me that the above photo wasn't taken in your back yard.
So, um, moving swiftly on, can you tell us what's at the top of your bucket list?
Rita: I'm up for pretty much anything that's legal except jumping out of a perfectly good plane or off a cliff. Oh, and I don't do crazy amusement rides. Gives me the whillies to even think about it.
Me: *falling around laughing* So you don't do amusement rides but you chase freakin' gators out of the back yard? I'd rather jump out of a plane than meet up with that gator. 
Finally, we're always looking for truly great books to read. Can you tell us about the last book you read (other than your own) that you really loved and would recommend?
Rita: Stephen King's 11:22:63. Not the usual King. A man goes back in time to stop Lee Harvey Oswald. The Monument's Men made me sad. I did not know about how the art treasures of Europe had been saved before reading the book. Unbroken, such a story of survival and faith.
Me: Wow. Thanks for the rec's. 11:22:63 is on my TBR pile (if you can have a pile on a Kindle) and I'm really looking forward to it. I love Stephen King's writing. Such great characterisation.
-------
Here's Rita's latest release. Hot cover, yes?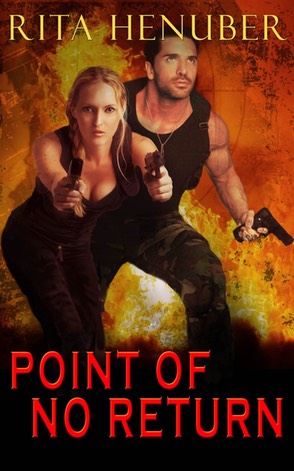 Marine Major Honey Thornton is nobody's fool, so when she's brought in for an off-the-books mission by a manipulative two-star general, she has to wonder why. When it turns out Honey's mission is to investigate a military contractor tied to the recent kidnappings of innocent children, she signs on immediately. Little did she know one of the first people she'd have to question was her sometime lover, Jack O'Brien. 

Jack O'Brien left the CIA bitter and disillusioned and now hires himself out as a contract spy. When his brother and sister-in-law are mysteriously killed and the young daughter they left behind is targeted for kidnapping, he smells a cover-up and goes underground to find out who's behind it all. Not sure who he can trust, the situation grows more tense when the sexy Honey starts asking questions he's not sure he wants to answer. 

With suspicion flaring on all sides and passion burning between them, Jack and Honey have to decide whether they can trust each other and bring down the people responsible, no matter how high up the chain of command it goes. Because when you're navigating the murky political waters of the Pentagon, the CIA, and private armies, it's hard to know who's got your back, who's on your side, and who's lying to your face—and sometimes the only thing you can trust is what you know in your heart. 
------
Rita grew up running the beaches of a barrier island on Florida's east coast. An island brat, she spent more time climbing weathered oaks and chasing alligators than playing with the dolls her family gave her. She married a Marine and feels fortunate to have lived many places and traveled to the states and countries she didn't live in.
Retired from government service, she moved back to that barrier island, where she writes contemporary women's fiction and suspense thrillers, weaving her experiences into her stories. Her heroes and heroines are either in the military or government service because she writes what she knows. Her father was in the Coast Guard and immediate family members served in every branch of the service. They ranked from private to admiral, and worked as desk jockeys, grunts, pilots, and everything in between. She's experienced the highs and lows of military and government life and is grateful for each experience.
Rita finds living on the island inspirational to writing: brilliant sunrises over the Atlantic; long walks on the beach having conversations with her characters; enjoying sunsets over the intracoastal waterway from the dock. 
You can connect with Rita via her website, on Facebook or Twitter. 
------
Right, people, we'd better say very nice things about Rita or she might send some spare gators our way…
Thanks so much for stopping by, Rita. 
Have a great weekend, all!