Happy Good Friday, everyone! Do you have any exciting plans for the Easter break? I shall be watching football today. Three hours of football. These are very tense times for Burnley FC. We're frighteningly close to winning promotion to the Premier League but, as had been said many times before, football is a funny old game. So that's my Good Friday - watching football and chewing my fingernails.
I'm delighted to say that Dead Simple, the latest Dylan Scott novel, is almost ready to send to my editor. Yay! And phew! You'll hear the sigh of relief when it leaves my desk. Also, I've just seen the cover concept for Dead End, the Dylan Scott novel that will be hitting the virtual shelves in July. I'll share as soon as I'm allowed.
Enough about me. Today, I'm delighted to welcome Julie Anne Lindsey to the blog. Julie writes cozy mysteries featuring the wonderful Patience Price as well as sweet romance and young adult books.
A huge welcome to the blog, Julie. Help yourself to an Easter Egg (all virtual so they're calorie-free). Now, this is where I get to be nosy. Where do you live and where would you live if you choose anywhere on the planet? Are you a town or countryside person?
Julie: I live in rural Ohio and I love it. The only other place I'd want to live is Chincoteague, Virginia, a tiny island town off the East Coast. I visited in 2007 and daydream of returning on a regular basis. It's peaceful. Beautiful. There's a national forest, national seashore and wild ponies. I mean, who isn't ready to move there?
Me: I'm certainly ready to move there. I had to Google it, and I'm already in love with the place. I adore the ponies.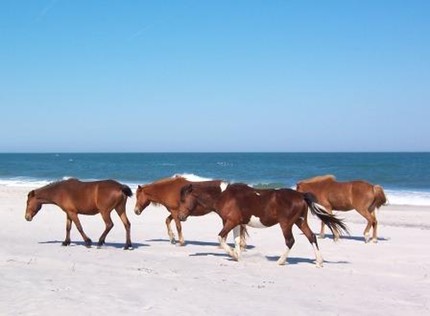 Me: Do you live with dogs, cats or are you pet-free? 
Julie: I am completely pet-free, unless you count my three kids (under 10) and husband, who are just as messy and twice as time consuming as any pets I've ever known.
Me: Oh, I definitely count kids, especially those under ten. I attend dog classes for agility among other things and we're all agreed that, no matter how much we're struggling with our dogs, they're far easier than kids. :)
When you're not writing, reading or sleeping, Julie, what do you love to do?
Julie: I'm addicted to a bunch of TV shows, like my life depends on their weekly outcomes. I pour a glass of wine or grab a snack and fall into my saved programming every night after the kids are tucked in. Then, I spend the next day marveling or angsting over the previous nights' stories. 
Me: I'm exactly the same. Lately it's been The Walking Dead, The Following and True Detective. I'm currently catching up with The Bridge. Funny, but I can't watch TV without a glass of something to hand, either. ;)
Now then, what's at the top of your bucket list?
Julie: Hmm. I'm pretty content, so I'm not sure about this one. Plus, I covered a lot of ground in college (both literal and figurative). I think I'd like to head north for a visit to Ground Zero. I think I need to do that. I'd also like to head south for a stroll down Bourbon Street and maybe grab a praline at the French Market in the New Orleans.
I want to run a marathon. Even a 5K. I just want to know I can. 
I want to see all of my children graduate high school and then college, hopefully grad school….fall in real-true-genuine love and get married.
I want to meet my grandbabies. 
I want to be that house everyone in the neighborhood hates at holidays because cars cover the lawn, spill out of their driveway and jam up the road. I want my family to want to come home whenever they can. 
Me: What a great list. I love the idea of being the house that everyone hates at holidays. Good luck!
Finally, we're always looking for truly great books to read. Can you tell us about the last book you read (other than your own) that you really loved and would recommend? 
Julie: I'm rereading the Veronica Roth series now in preparation for the Divergent movie. If you like YA or dystopian stories, those are pretty good. I'm absolutely hooked on Gemma Halliday amateur sleuth stories. Her "In High Heels" mysteries are so much fun. I love them forever. Big Girl Panties by Stephanie Evanovich is pretty good, too. It's got romance and humor and threads of my life. I read so many things, my brain sometimes bunches them together and makes it impossible to remember which was my favorite-favorite and which were pretty good. 
Me: What great recommendations. Thanks! I'm a huge fan of Stephan Evanovich but haven't caught her Big Girl Panties yet. I must! 
And talking of books, people, here's Julie's latest: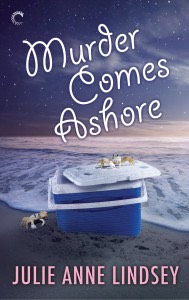 Patience Price is just settling into her new life as resident counselor on Chincoteague Island when things take a sudden turn for the worse. A collection of body parts have washed up on shore and suddenly nothing feels safe on the quaint island.
Patience instinctively turns to current crush and FBI special agent Sebastian for help, but former flame Adrian is also on the case, hoping that solving the grisly crime will land him a win in the upcoming mayoral election.
When the body count rises and Patience's parents are brought in as suspects, Patience is spurred to begin her own investigation. It's not long before she starts receiving terrifying threats from the killer, and though she's determined to clear her family's name, it seems the closer Patience gets to finding answers, the closer she comes to being the killer's next victim.
About Julie: Julie Anne Lindsey is a multi-genre author who writes the stories that keep her up at night. She's a self-proclaimed nerd with a penchant for words and proclivity for fun. Julie lives in rural Ohio with her husband and three small children. Today, she hopes to make someone smile. One day she plans to change the world.
Find Julie online:
Julieannelindsey.com
Photo-gramming her life on Instagram
Pinning the pretties on Pinterest
Tweeting the crazy on Twitter
Blogging about books & the writer-life at Musings from the Slush Pile
Facebook
Recording her Reading on Goodreads
-------------
Happy Easter, everyone!