I hope you all had a great Easter! As you know, I spent most of it watching football and this was the final shot on the big screen at Turf Moor on Monday.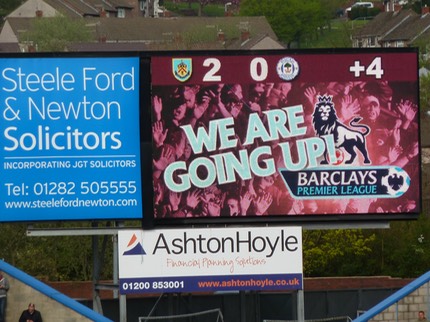 Yes, Burnley FC are back in the Premier League. Woohoo! I still can't quite believe it.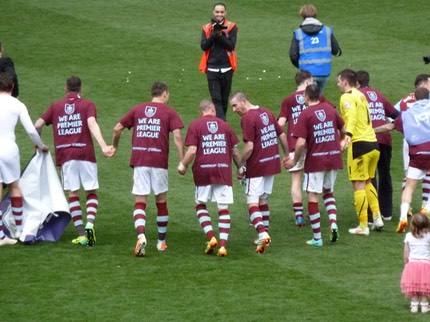 Massive congratulations to all involved, especially manager Sean Dyche and the most hard working, determined bunch of players I've ever seen at the club. An amazing achievement. You did us proud, lads!
As I'm locked in Deadline Hell (Dead Simple has to be with my editor on Wednesday - yikes), I'm going to hand you straight over to today's guest, the lovely and hugely talented Jean Harrington. (If you haven't read her mysteries, you should. Truly.)
Welcome to the blog, Jean. Pull up a chair, and help yourself to a glass of virtual champagne. And thank you for allowing me to be nosy.
First, can you tell us what's on your bucket list?
Jean: Machu Picchu and Brad Pitt. Why not go for the top of the heap? The only thing bothering me is that by the time I trek up the mountain in the rarified Peruvian air, I'll be too out of breath to say a word to Brad. All I'll be able to do is gasp.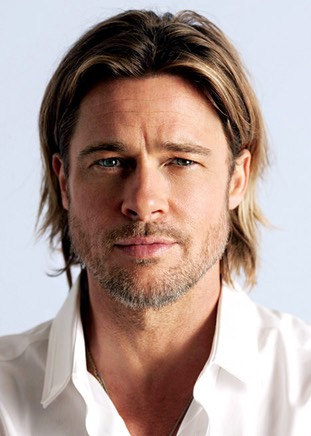 Me: Don't worry about it, Jean. I think all most of us would do on meeting Brad is gasp. He must be used to it. (Yes, folks, it was a tricky choice between a photo of Machu Picchu or Brad Pitt…
As readers of my blog know, I'm a dog person. Some people, my other half included, would even say I'm obsessed. What about you? Do you live with dogs, cats or are you pet-free?
Jean: After losing our beloved cat, Willow, we haven't looked for another pet. But now that a granddaughter has Stella, pictured below as a Halloween cowgirl, we're seriously considering getting a new kitty.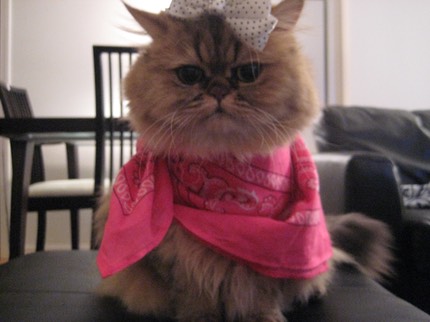 Me: Hugs on losing Willow. It's such an awful thing to go through. Stella is adorable - I mean really adorable. I thought readers would be drawn to the picture of Mr. Pitt, but now I'm not so sure. I do believe Stella has stolen the limelight…
Moving on to books … we're always looking for truly great books to read. Can you tell us about the last book you read (other than your own) that you really loved and would recommend?
Jean: Oh, I have a great read for you! The Art Forger by B. A. Shapiro. The setting is Boston - part of my old stomping ground - and involves the infamous art heist at the Isabella Gardner Museum. I was riveted to the story for that reason alone and also because the book's written in first person, as are my Murders by Design Mysteries. Seeing how another author handled a first person protagonist I found fascinating.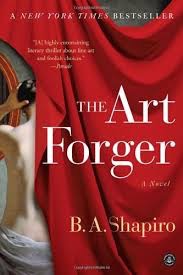 Me: I'm becoming more and more drawn to first person protagonists. It's not something I've done in novels, although I've had several first person short stories published, and I'm seriously considering it for the book after next. I must check out The Art Forger. Thanks for the recommendation!
Finally, Jean, where do you live and where would you live if you could choose anywhere on the planet? Are you a town or countryside person?
Jean: I live in Naples, Florida, so I guess that makes me something of a city girl. While I love the earth's natural beauty, it's people that turn me on. No question, trees are vital to life on the planet, trouble is they don't talk to you. And as a writer, I need that dialogue!
Me: That's an interesting point. Me? I'm a country girl. I like to get out in the hills and see the trees and I don't want real people distracting me from the characters that are living big lives in my head. There's no doubt though that authors do need a lot of interaction with real people to fill the creative well.
Jean's latest book: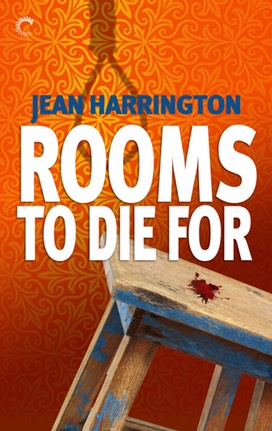 Book four of Murders by Design
Interior designer Deva Dunne finds more than fabulous furnishings on her trip to the design mall; she and her client come upon the body of one of Deva's favorite shop owners, swinging from the atrium railing. It looks like suicide, but Deva feels sure that the purveyor of Florida's finest antiques would never leap to his death from a tacky blue stool.
Deva's boyfriend, studly and stoic police lieutenant Victor Rossi, looks into it, but there's not much to go on. He's focusing on their future these days, and he wishes Deva would steer clear of danger.
But everyone around Deva seems to be keeping secrets, and she's getting some strange reactions to the designs she's doing for a big charity event. When she experiences a mysterious attack, she knows she's at the center of something huge--and if she doesn't outwit this killer fast, her only future will be six feet under.
Jean Harrington is the author of the Naples-set Murders by Design Mystery Series.  The books feature an interior designer as amateur sleuth with a tough-talking, kick-ass detective as her soft-at-heart love interest.  A former English professor at Becker College in Worcester, Mass, Jean now lives in Florida and writes for the exploding field of electronic publishing.  She's awed by its impact on readers and writers alike.  Excerpts of this tongue-in-cheek series are posted at www.jeanharrington.com. Also, all books in the series are available at Amazon.com.
You can connect with Jean via her website, Facebook or Twitter.
A million thanks for dropping by and giving us an insight into your life, Jean.
Okay, readers, who do we want to take home? Brad Pitt or Stella? I am so torn...
Have a great weekend, all!