This Writer's Life...

The sun's still shining but I must ignore it because I have the first lot of edits for Dying Art to deal with. The good news is that my editor loved the story. Yay!
If you don't see much of me this week, you'll know where I am. I shall emerge (hopefully) before Monday in time for the release party for Dead Calm. The champagne's on ice! As you know, this is a Dylan Scott novella. It's available as a single title and also as part of an anthology. …

…hip-hip-hip-hooray!
This time last week, I was freezing. I even put the heating on. This week has come as a total shock then. People in Lancashire are wandering around with dazed expressions wondering if the end of the world is nigh. It's hot and sunny. Seriously hot and sunny. It takes us by surprise and - I hate to say this - it doesn't feel right. For one thing, I'm sitting at my desk in a dress. …
The longlist for the Theakstons Old Peculier Crime Novel of the Year Award has been announced. This means I have more books to buy. It also means I need more time to read. 
2012 Longlist
Rivers of London by Ben Aaronovitch (Gollancz)
Darkside by Belinda Bauer (Corgi)
Now You See Me by SJ Bolton (Corgi)
Where the Bodies Are Buried by Chris Brookmyre (Abacus)
The Burning Soul by John Connolly (Hodder Paperback)
…

So I was wondering what to blog about today when I stumbled across this:
Hmm. Having given myself a complex, I shall return to the writing cave and the deadline panic.
Before I go (ha, you didn't think you'd get rid of me that easily, did you?) I must share this: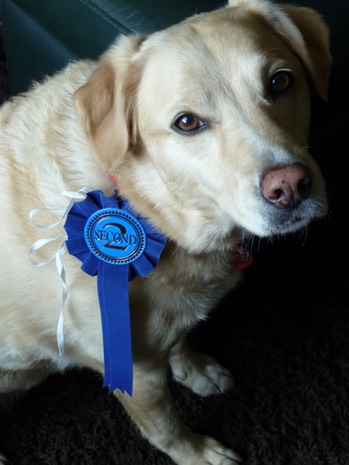 Yes, Tilly the Wonder Dog, who has never before attempted such a feat, came second in an agility competition yesterday. …

Here it is! I can finally unveil the cover for my novella, Dead Calm, to be published by Carina Press on June 4th. What do you think?
Once again, it's been designed by the awesome Croco Designs. Isn't it gorgeous? I love it. This novella moves away from Lancashire and takes place on a cruise along the Norwegian coastline (hence the ship and mountains on the cover). What do you think?
…

As many of you know, my favourite writerly quote was brought to us by the late, great genius of Douglas Adams: I love deadlines. I like the whooshing sound they make as they fly by. It always makes me snort with laughter. 
When on deadline, the idea is to keep butt in chair and nose to grindstone, right? Right.
Yesterday, I skived off for the whole day. Nick was off work so we threw the dog in the car and took her to the beach. …