I've no idea where the week went. Really, it just passed me in a blur. I did visit my dentist so that wrote off an entire day, but one minute I woke up feeling as if I'd been hit by a sledgehammer (Monday) and now it's Friday. I'd like to tell you I've been busy sending Dead Simple to my editor, but alas, I'd be lying. There are still some (a hell of a lot of) tweaks needed before it leaves my desk. It will be there by the end of the month though. I'd also like to tell you that I've been sitting in the sunshine with a glass of something long and cold to hand but I'd be lying again. It's been wet, grey and foggy here. So much for spring.
The good news is that I have a wonderful guest for you to meet. I'm really thrilled to introduce you to Dee J. Adams. I feel especially honoured that Dee J. has taken time to visit because she's had a rough time of it lately as you can see from the post she wrote for Not Your Usual Suspects. Many, many thanks for coming, Dee J!
So let's find out about Dee J. the person, as well as Dee J. the author.
Me: Dee J., can you tell us where you live and where you'd live if you could choose anywhere on the planet? Are you a town or countryside person?
Dee J.: I live in Southern California and wouldn't want to be anyplace else. I knew when I first visited California at 8 years old that I would live here. Being from a dry desert town in Texas, I was thrilled with the idea of green trees and lawns instead of tumbleweeds and cactus! I think I'm actually in the middle of the town and country. I love horses and all the things that the countryside offers, but I do love the diversity of a city. I'm definitely NOT big city, buy I probably lean in that direction these days.
Me: At the time of writing, I'm looking out at my great countryside view - the one that I can't actually see because it's grey, damp and foggy out there. Southern California sounds wonderful!
What about pets? Do you live with dogs, cats or are you pet-free?
Dee J.: I have 2 dogs. I've almost always had dogs and they are always rescues. Currently, I have a Pitbull mix and a Border Collie mix. They are 9 years old and very sweet. It took some time for them to adjust to us since we've only had them 2 years, but it's like we've had them since puppyhood now. In the picture, you can see how Zachary takes his job of cleaning Elizabeth very seriously … since he has to hold her down to clean her ears. LOL.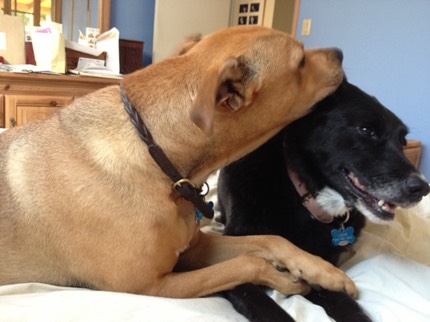 Me: That is adorable. I love the expression on Elizabeth's face - "so I'm the Border Collie mix which makes me more intelligent than him. But he's bigger than me so I'll let him clean my ears while I think up a cunning plan to get him back later…"
Good for you for opening your home to rescues. I rescued my last dog when he was 9 and lost him when he was 15. I had 6 wonderful years with him and couldn't have wished for a better companion. I know several of my readers have rescued pets. So rewarding!
So Dee J., when you're not writing, reading or sleeping, what do you love to do?
Dee J.: You just listed the three things I love to do, so it's hard to answer. Haha. I like spending time with my daughter and husband. It's hard to get quality family time in while I'm juggling life and all the balls in the air. (That includes my day job working as an acting coach on a children's sitcom for Nickelodeon.)
Me: I'm so impressed by your day job. Wow!
What's at the top of your bucket list?
Dee J.: Right now … a trip to Hawaii. Although if I had to pick a place I've never been, I'd have to say Italy. I need a trip outside the continental US to a brand new place. Just thinking about all that delicious Italian food makes me hungry.
Me: I adore everything about Italy. The people, the buildings, the style, the ice-cream. Oh, my, the ice-cream. :)
Finally, Dee J., we're always looking for truly great books to read. Can you tell us about the last book you read (other than your own) that you really loved and would recommend?
Dee J.: I'm almost finished with Suzanne Brockmann's Do or Die. She's on my auto-buy list and this book is as terrific as the others. Before that, I read Running Wild by Linda Howard. That book stayed with me for days afterward. I loved it. Both of those authors are my favorites.
Me: Thanks! I'll be checking those out. I love a book that stays with me days after I've read the final page. 
---
Born and raised in El Paso, Texas, Dee J. moved to Los Angeles, California, where she acted in television and commercials for almost twenty years. She writes contemporary romantic suspense. She's a member of SAG-AFTRA and RWA and was thrilled to be chosen by Audible to narrate three of her (four) books in the Adrenaline Highs series (Carina Press): Danger Zone, Dangerously Close and Living Dangerously. All of her books, including the first, Dangerous Race, and her most recent release, Against the Wall, are available at Amazon, Barnes & Noble, iTunes, Kobo, ARe and other e-book distributors.
She has been married to the love of her life for almost 25 years and they have a 17 year old daughter who brings them nothing but pride and joy.
Connect with Dee J. through her website or via Facebook, Twitter and Goodreads.
--
Here's Dee J.'s latest release.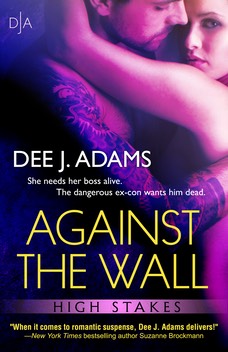 Tanner Bryant wants revenge. After spending seven long years in prison for a crime he didn't commit, he's determined to even the score with the man who put him there. The only thing in his way is a slip of a girl in a big ass bind.

Jess St. John needs eight million dollars or her kidnapped family will die. Caught in a war between the mob and her boss, a corrupt film producer, she will stop at nothing to get the job done.

In a race against the clock, and a deal with the devil, Jess forms an unwilling partnership with Tanner to help find and free her family before it's too late. In return, she'll look the other way when her boss goes permanently missing. It soon becomes apparent that Tanner has more honor than he wants to admit and Jess finds herself falling for the gentle man beneath the rough exterior. But love and revenge run a close race and when push comes to shove, Tanner has to decide which one is more important.
--
Many, many thanks, Dee J. It's been a joy to have a glimpse into your world. Give those gorgeous dogs a hug from me!
Okay, lovely readers, what do we think of audiobooks? I've just listened to Chance by Robert B. Parker (a Spenser mystery), a brilliant book by a superb writer. As I was listening, I was marvelling at the way the narrator brought the story to life. Only when I'd finished it did I realise that it was narrated by Burt Reynolds. Well, wow. Just wow! I always get a copy of my own books when they're produced as audiobooks and, guess what, I can't listen to them. The voices are wrong and totally at odds with the voices I have in my head. I know for a fact, however, that I couldn't narrate my own books. I would be rubbish. I'm in awe of Dee J.'s talent!
I'm in love with her dogs, too. Aren't they gorgeous? They look so happy!
Have a great weekend, all!