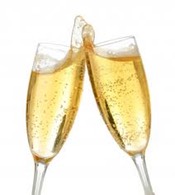 Welcome! Help yourself to a glass of champagne…
Here in the UK we're busy celebrating 60 years of the Queen's reign. Flags are flying and bunting is fluttering in the breeze (gale). As well as the Queen's Diamond Jubilee, I'm celebrating the release of Dead Calm. This is a Dylan Scott Mystery novella to give people a taste of my favourite private investigator. Dylan usually gets dragged to dreary Lancashire to solve his cases but this time, he's on a cruise. High above the Arctic Circle. In November. I love giving him a hard time of it!
This is from the back cover:
Murder on the Arctic Sea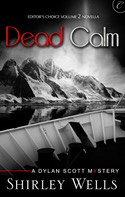 Detective Dylan Scott thinks cruising well above the Arctic Circle in November is nothing short of madness. He has zero interest in seeing the elusive aurora borealis, but agrees to the Norwegian holiday to keep his wife and mother happy. At least the biggest problem he'll have to deal with is boredom. But that boredom quickly dissipates when the unpleasant elderly woman in the neighboring cabin is found dead.
Everyone thinks Hanna Larsen had a heart attack. Everyone except Dylan. Dylan is convinced there's a killer aboard the Midnight Sun—a killer who may strike again…
Dead Calm is available as a single title from the usual places - Carina Press, Amazon UK, Amazon US, Barnes & Noble - and is also available as part of Carina Press Presents: Editor's Choice Volume 2. I'm so thrilled to be included in this anthology. As well as Dead Calm, the anthology includes Dance of Flames (paranormal mystery) by Janni Nell, No Money Down (action adventure mystery) by Julie Moffett and Pyro Canyon (science fiction, space opera) by Robert Appleton. Great reads from great authors. The anthology is available from Carina Press, Amazon UK, Amazon US, Barnes & Noble and all great eretailers.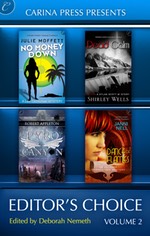 To celebrate, I'm giving away two digital copies of Dead Calm on my Facebook page today. All you have to do is leave a comment over there. Easy peasy.
Meanwhile, help yourself to more champagne. Let the corks pop and the bubbles fizz. And many congratulations to Her Majesty!