Friday's here again. Good grief. How did that happen? Hmm. I hope you've all achieved more than I have this week. Shirley must try harder. A lot harder…
The weeks are flying by and already, it's time to say goodbye to this Getting To Know series of blog posts. The final guest is a very special one though and I hope you'll give Julie Moffett a warm welcome.
Welcome to the blog, Julie! Thanks for being here, and thanks for letting us have a glimpse into Julie the person as well as Julie the writer. So, tell us, where would you live if you could choose anywhere on the planet? Are you a town or countryside person?
Julie: I'm a beach girl. I would definitely live near the beach on a warm tropical island somewhere. I love the beach, the ocean, and the warm weather.
Me: Oh, me too. I love, love, love the ocean. 
Do you live with dogs, cats or are you pet-free?
Julie: We are definitely dog people, but love cats, too, and have had guinea pigs as well. Unfortunately, we lost our beloved 12-year-old German Shepherd, Luna, last July. We are still grieving, so now we are currently without pets.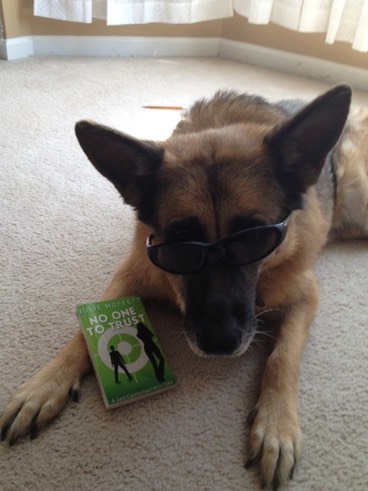 Me: Aw, so sorry about Luna. It's such a difficult thing to go through. Pets are family, and the unit is never quite the same when we lose one. Such a lovely photo - reading Mum's book!
When you're not writing, reading or sleeping, what do you love to do?
Julie: Juggling the day job, two kids, writing a series, and going to school, there is no other time to do anything! But if I could, I would write more. I'm always longing for more time to write when I'm fresh.
Me: Ah, if only we could buy more time. I don't have a day job, or two kids, or school and still I can't find enough hours in the day.
What's at the top of your bucket list?
Julie: Going to Egypt. It's on my bucket list to see the pyramids. Then I could know for sure if aliens engineered them or not.  ☺
Me: Ha. Definitely aliens. What other explanation could there be?
Finally, we're always looking for truly great books to read. Can you tell us about the last book you read (other than your own) that you really loved and would recommend? 
Julie: I just finished  I Am Malala: The Girl Who Stood Up for Education and Was Shot by the Taliban. It's a book everyone should read. To see such a young girl with such courage and conviction is humbling. It's a wonderful story of human perseverance. One person truly can make a difference in this world.
Me: Agreed. We should all read it. I'm amazed by her courage. Thanks for the recommendation!
- o -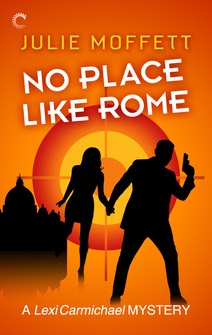 A Lexi Carmichael Mystery
Italy might seem like a long way to go to hide after a disastrous date. But when sexy überhacker Slash (no, that's not his real name) asks me to go with him to Rome on an investigation, the timing is sort of perfect. My messed-up love life becomes the least of my worries, though, after the dead body, the near-kidnapping and the discovery of a top secret encrypted file that even I can't hack.
With time running out, there's only one thing to do: call in the legendary Zimmerman twins and my best fluent-in-Italian friend, Basia, to crack the code. Now if only someone could help me solve the mystery of whether Slash is flirting, or if all the kissing is just one of those "when in Rome" things...
But when we finally uncover the secret someone would kill to keep, it's up to me to solve the case and save the lives of my best friends.
Just another week in the life of geek-girl Lexi Carmichael.
Read about Lexi's previous adventures in No One Lives Twice, No One to Trust and No Money Down.
- o -
Julie Moffett is the award-winning author of fourteen published novels in the genres of historical, paranormal fantasy, time travel romances, and action/adventure mysteries.
She grew up as a military brat (Air Force) and has traveled extensively. Her more exciting exploits include attending Kubasaki High School in Okinawa, Japan, backpacking around Europe and Scandinavia for several months, a year-long college graduate study in Warsaw, Poland and a wonderful trip to Scotland and Ireland where she fell in love with castles, kilts and brogues.
Julie has a B.A. in Political Science and Russian Language from Colorado College, a M.A. in International Affairs from George Washington University in Washington, D.C., and is nearly finished with her M.Ed from Liberty University in Virginia. Able to speak Russian and Polish, she worked as a journalist for the international radio station, Radio Free Europe/Radio Liberty in Washington, D.C. for eleven years, publishing hundreds of articles. She now works as a proposal writer and research advisor for a defense contractor in the Washington, D.C. area.
Julie is a single mom with two sons, who keep her quite busy. She belongs to Romance Writers of America and Washington Romance Writers where she served six years on the organization's Board of Directors. She was also the Market News Columnist and Feature's Editor for the organization's monthly newsletter, Update, for eleven years. 
You can connect with Julie via her website, Facebook, Twitter or Goodreads.
- o -
A huge thank you to Julie for being here!
So what's coming next on the blog? The cover reveal for Dead End. Yes, I have a cover and I can't wait to share. Meanwhile, I hope you all have a lovely Friday and a wonderful weekend! If today's weather is anything to go by, I'll be fighting my way through floods and strong winds. So much for spring...